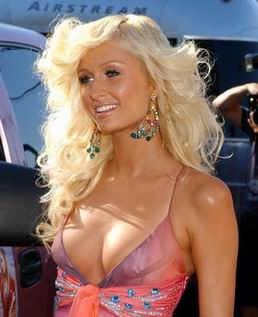 Looks like that sex tape that Paris made with ex-boyfriend Rick Solomon was not just a fluke. According to a report just posted on The National Enquirer, two men are offering over 14 hours of videotapes, as well as photographs, of Hilton not only having sex with two more ex-boyfriends, but also using drugs and using a "racial slur." One of the men, who only identified himself to the tabloid as "Darnell," says, "There are loads of videos of Paris Hilton. We just were able to get them and assemble them, and we edited them."

When asked to describe the content, Darnell says, "These are shots taken from six months to five years ago. There are 14 hours in all. There are photographs, too. They were all legally obtained. The pictures were all shot with Paris' full knowledge and by a number of different photographers and video cameramen." The scenes reportedly show former Backstreet Boy Nick Carter groping Paris in the back of a car as well as performing a sex act on her. Also shown on the tape is male model Jason Shaw with Paris. Besides the all the sex, Paris is also reportedly shown smoking pot and referring to two black men she's just spoken with as "dirty niggers."

Darnell denies that the tapes and photographs were taken during a recent break in at Hilton's home and says he obtained the materials legally. So far there hasn't been an announcment on when the tapes may be available to the public.